Search Opportunities
Nursing Careers
Explore opportunities at Lovelace Health System across New Mexico.
Lovelace Health System is currently hiring for a variety of nursing positions. Search for opportunities and apply here. At Lovelace Health System, we combine support, flexibility and ongoing training for our staff to succeed.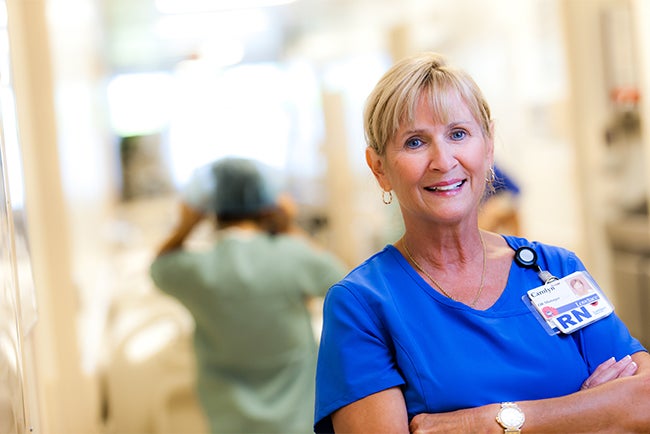 Sign on bonus
Relocation assistance
Tuition Reimbursement
Nurse residency program for graduate nurses
Work life balance
To speak with a recruitment specialist or human resources representative about joining our team, please call 505.727.5100 or complete the form on this page.
About Lovelace Health System
Lovelace Health System is at the forefront of improving the health of New Mexicans. We are driven by our purpose of caring for people: our patients, their families and one another. We invest in the latest technology and treatments, as well as in our team. We build meaningful relationships with our patients, our community, and with our coworkers. We celebrate your successes, recognize your value, and believe in your ability to help build a healthier New Mexico.
Lovelace Medical Center is the flagship hospital of Lovelace Health System with hospitals and clinics serving the greater Albuquerque, Rio Rancho and Roswell areas including Bernalillo, Valencia, Torrance, Sandoval and Chaves Counties. Providing jobs to more than 4,100 New Mexicans across our health system, we are pleased to be one of the state's largest employers.
Our hospitals offers you opportunities to grow while transforming lives, plus incentives and assistance to get you there. We celebrate your successes, recognize your value, and believe in your ability to help bring positive change throughout New Mexico.
Beyond direct patient care, we also value the importance of being involved within the community, partnering with United Way of Central Mexico, the American Heart Association, March for Babies, Junior Achievement and the New Mexico Heart Institute Foundation through volunteerism, donations and fundraising. You, too, can be a part of these great efforts when you become part of our family.
Join our team as we create a healthier tomorrow by meeting the needs of our patients today.
Living in Albuquerque
Outdoor Adventure
A mile above sea level with more than 300 days of sunshine, Albuquerque is an outdoor lover's dream for hiking, skiing, biking, running and golf.
Authentic Cuisine
Eating in New Mexico can be just as adventurous as finding a new trail - colorful, diverse and savory.
Thriving City
Albuquerque offers all the amenities of a metropolitan city with a booming shopping, arts and entertainment scene.
Captivating Traditions
As the hot air balloon capital of the world, we have reason to take to the skies as often as our great weather allows.
Love your career.
Fun facts about Albuquerque
Albuquerque averages at least 300 days of sunshine a year, with 10" of annual snowfall and 9.4" of annual rainfall.
Albuquerque is a big player in the film industry, which has selected Albuquerque as the filming location of films such as Sicario, Independence Day: Resurgence, The Avengers, Terminator: Salvation and No Country for Old Men and TV shows such as Breaking Bad and In Plain Sight.
We Love What We Do and Where We Live.
Lovelace Health System recruiters would like to introduce you to a place we love to live and work. Explore having a rewarding career in health care at one of the country's top health systems in a setting that allows you to take advantage of the best New Mexico has to offer.
"Nursing was a calling. Albuquerque was a calling. This is where I'm supposed to be."
-Bobby B.
"It is clear that we, as a system, have the same mission and vision from the CEO of Lovelace to the CEO of our facility. The patient is at the center of it all."
-Melanie T.
"I feel I joined a community. People care about what you're doing today and everyone wants to help."
-Celeste M.